CWL Season 4
CWL Season 4 Registration Now Open! Here is everything you need to know about Season 4!
Please note, information on this page is preliminary and subject to change.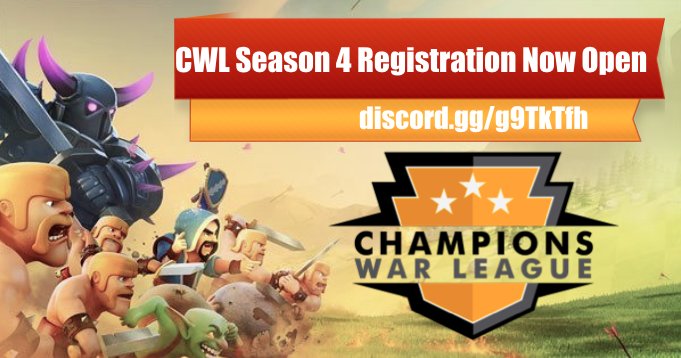 Placement Matches
Starting Season 4, the CWL intends to implement a new placement match system that will take place at the beginning of the season.
Placement Matches will serve two main purposes:
To rank clans in their league, and thus determine their schedule for the regular season and
to test clans new to the CWL to see if they have the values that CWL expects in its participants, then place them in a league if they qualify.
Full Placement Matches Document
Schedule
Draft Calendar for Season 4
Leagues
| League | Default breakdown (TH11/TH10/TH9) |
| --- | --- |
| Invite | 40v40 5/15/20 |
| Premiere | 30v30 4/12/14 |
| Rising | 30v30 3/9/18 |
| Lite | 25v25 2/6/17 |
TH8 and lower are not allowed to remain in a clan during CWL wars.
Other Documents